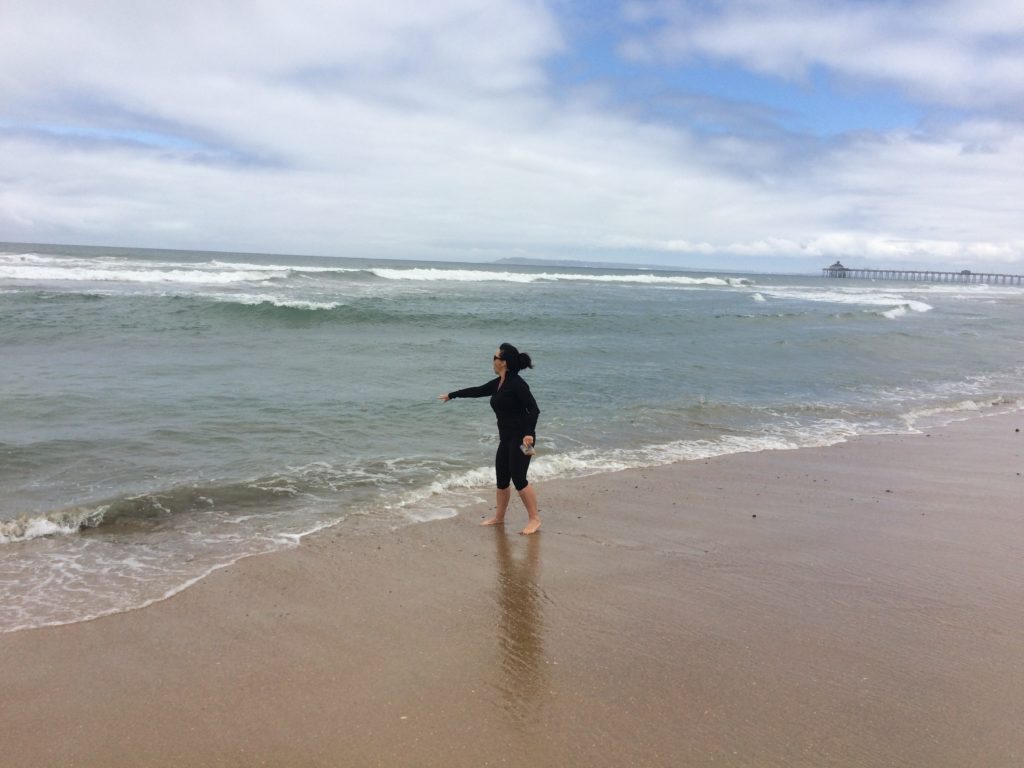 Last year I held a magical retreat in Imperial Beach, California
We started the event by choosing something we wanted to release from our lives.
I chose my belief that I'm a disorganized person.
As you know, all of our results in our lives derive from our thoughts and beliefs.
This is because the way we think influences the way we feel, and the way we feel determines what we'll do, which of course creates  our result.
I've been telling myself I'm disorganized for a very long time.
My hyper-organized oldest daughter agrees, and reinforces this belief every time I forget to pick someone up (yep. happened a few times), or can't find something she needs NOW.
I always took it as a character flaw.
I thought this so many times that I began to think it was real. Fixed. Something in me that I would have to manage and compensate for with all my other sparkling traits.
Of course, this isn't true at all.
When I would tell friends that I was disorganized, some  would  be shocked, and tell me all the ways they thought I was a pretty disciplined person.
Hard to start and maintain a successful business all on your own, and run a busy household of six (with only the occasional forgotten child)  without any organizational skills huh?
So, being in a heightened state of awarenss, thanks to the magical surroundings and the glorious conpany at the retreat,
I remembered that it was just a belief I'd created in  my mind,
And decided to be done with it.
I knew that the more I told myself I was disorganized, the more papers, items and children I would lose.
So I threw it into the sea, yelled it at the top of my lungs, and kind of forgot about it.
This week, I've been planning my retreat for this spring
(deliriously excited about it!)
and I realized, drving home yesterday, on time and with all 4 kids accounted for,
and entered my neat and tidy house, with all (okay most) papers filed,
that I'm not a disorganized person anymore.
Sure, sometimes I forget stuff, but rarely,
And sometimes I choose Netflix over a clean kitchen, which means I go to bed later than planned, but then I clean it in the morning,
And mostly, these days, I'm pretty, functionally, organized.
Magic happens when we gift ourselves the time and space to be in nature, in the company of like-minded, conscious women who are all seeking to evolve to higher versions of themselves with love and understainding.
My retreat this spring is in Bodega Bay in Northern California, May 25-28. We're going to explore The Bearable Lightness of Being (with apologies to Milan Kundera).
It's almost sold out, before I've even managed to post a detailed description on my site, so if you are ready to release some old beliefs that have been holding you back from becoming the best version of yourself, experience mindfulness, consciousness, beach walks, yoga, amazing food, magical coaching, and too much more to mention, in a luxurious house overlooking the sea, , email me now to tell me, and I'll send you the details!
Here's how two of last year's retreaters described it:
I would describe the retreat as:  1) Really FUN 2) A time to enjoy seriously yummy food 3) The luxury of a private yoga class ON THE BEACH! 4) The gift of "me" time 5) spontaneous dance parties  6) A great way to learn new self-coaching skills  7) Last night, sunset, with beautiful and amazing people…priceless 8) A wonderful opportunity to get one-on-one coaching and to learn from the coaching of others  9) Spending time with a group of intelligent women and our generous, hilarious, fearless leader, Bev! xoxox" 
"Real, intimate, relaxed and lots of fun and you come away with a sense of who you are – I loved it all. Ready to take on the next great phase of my life with a lot more useful tools to make it through."
"What I learned is that EVERYBODY has vulnerabilities and pockets of sadness even if they present a perfectly self-confident facade.  We never know what their tender spots are unless we have the opportunity to do coaching.  Then everyone can be vulnerable in a safe environment. Exposing those spots to the light of day is so healing and cleansing".
And a year later, "I will SUPER miss you guys, too!!!! I go back to that serenity I found at your place with y'all often…such a good, peaceful, calm and present space!!!!"