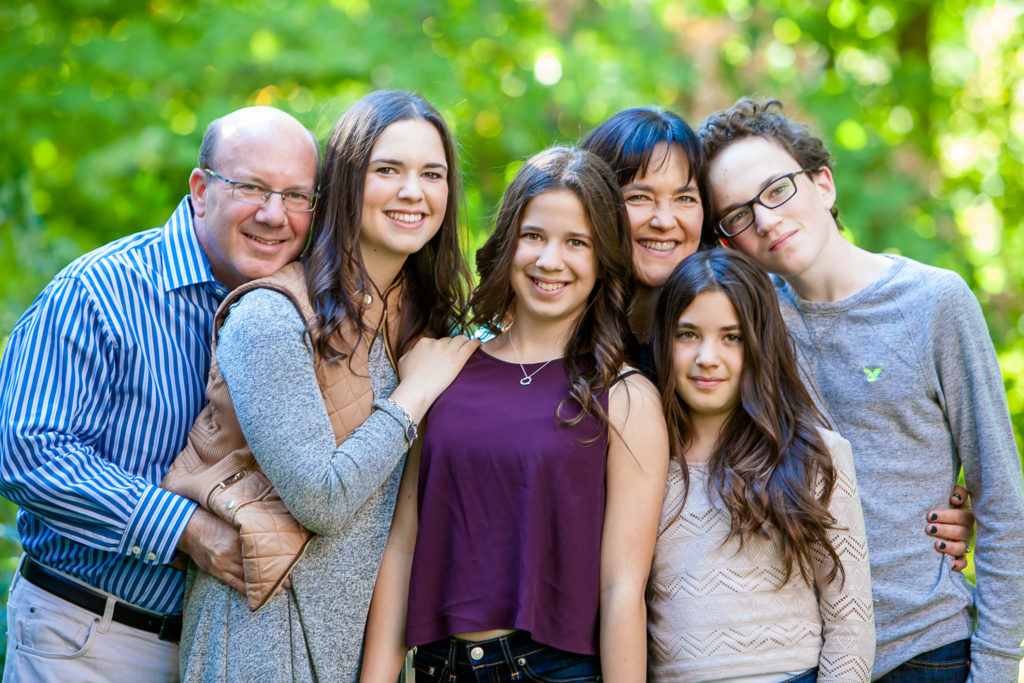 Last week was filled with wonderfulnessfor me.
We celebrated the Bat Mitzvah of our youngest child.
A Bat Mitzvah is a kind of coming of age for a Jewish girl, and it's a time for celebrating who she is becoming, which in this case was easy to do, as she is an absolute delight in every way.
We wanted to make sure that we planned mindfully, so that it was a meaningful celebration, and a modelling for our children of what we consider to be important in life, which is family, values and community.
One of the ways we do this is to hold our celebrations in our home, which is quite unusual where we live.
Our back garden gloriously backs onto a ravine, we have a big deck overlooking the forest, and a flower filled front yard on a quiet street, so we planned to spread our guests around these three areas, with round tables and lavish silver tablecloths and delicious food.
The caterers would spread their food stations throughout the house and gardens, and we imagined a casual relaxed, informal mingling type of event which would follow the synagogue service, which we required my daughter to lead, as part of teaching her the role we expect her to fulfill as part of her community.
As you can imagine, this involved a lot of planning and running around, all of which we do, intentionally, with joy and lightness.
Truly.
Many people expect us to be stressed and nervous before these events, and we never are.
We know that what's important is people, and as our celebrations always include people we love and who love us, we have never understood how they could ever be a source of stress?
Anyway, this time we got tested.
The week before the event, when I was not only driving around town choosing balloons, decor, candy, desserts, centrepieces, outfits, shoes, etc., but also shopping for sleepover camp because my daughter's bags had to shipped out the day before her Bat Mitzvah, our van broke down.
My husband waited in the hot sun for over an hour for CAA to tow it to the service station, where we were told it would need almost $1000 of repairs.
Had we brought it in earlier, it would have cost less, but I was given the wrong advice by the first technician.
Then, three days before our event, the weather forecast, which was growing more and more ominous, switched from a likelihood of showers to thunderstorms…
We had no Plan B for the party, and 130 people in our house with caterers and food stations and bars would be really squashy.
We're not great believers in having Plan Bs because we always believe that things will work out for us.
And of course, they always do.
I chose to believe this:
I am being tested, and all I have to do to pass is be pleasant to everyone and handle this all with grace.
And that's what I did.
My sister lent me her car.
We got the van fixed.
We moved the party to the bright, airy school gym, where they gave us everything we needed for a stunning celebration, and friends stepped in to help us switch over. It remained a meaningful venue, as it's where my children have been nurtured and educated here for the past 16 years, and where we've met many of our closest friends.
Looking back, I honestly can't remember a moment of stress throughout all this.
My thought was 'this is all working out exactly as it is meant to' and 'the only thing that matters here are my people'.
I'm so proud of who we are as a family.
Not one of us made a fuss or even suggested that any of this was a problem.
We all know what's important, and none of that was affected by weather, or unexpected expenses or events.
I love love love how my life gives me moments where I get to consider and reaffirm everything that I hold to be important, and to gratefully celebrate that that is exactly where I am placing all my attention.
In that spirit, I want you to know that you are included in my people, and that the purpose of my blog today is to tell you how much I appreciate you being in my life, and to tell you that no matter what is happening for you right now, it is all working out exactly as it is meant to.